User Experience Solutions
Advance Passenger Information Service
The Client
Border Force require all private pleasure craft owners and operators to inform them of travel prior to sailing to and from the UK.
To do this, Border Force required the completion of numerous forms across multiple systems, ensuring compliance with customs, immigration and waterways.
The Vision
The development of an easy-to-use digital service that can be quickly adopted by boat owners and operators from any country.
Built around the user experience, the modern and accessible portal would accurately capture and process Advanced Passenger Information.
The Challenge
The main challenges involved in the legacy system included:
Traveller information was often incomplete, incorrect or out of date.
The system was disparate and did not share information effectively or efficiently.
There were no automated triggers for suspicious vessels, people or goods.
To combat these issues, Border Force required a more accurate and efficient way of collecting and processing data from private vessels arriving and departing from British ports.
The Solution
After a period of user research with professional shipping agencies and amateur skippers, we were able to conduct the following:
The design and build of the new voyage reporting service.
Testing to ensure good technical performance and user experience.
Creation of a 'service blueprint' to show how the client experiences the service.
Continuous iteration of designs for the interface, user-journey and datasets
Development of the data schema, storing data in a single and easily interrogated system.
Deployment of the brand-new live service on GOV.UK.
The Benefits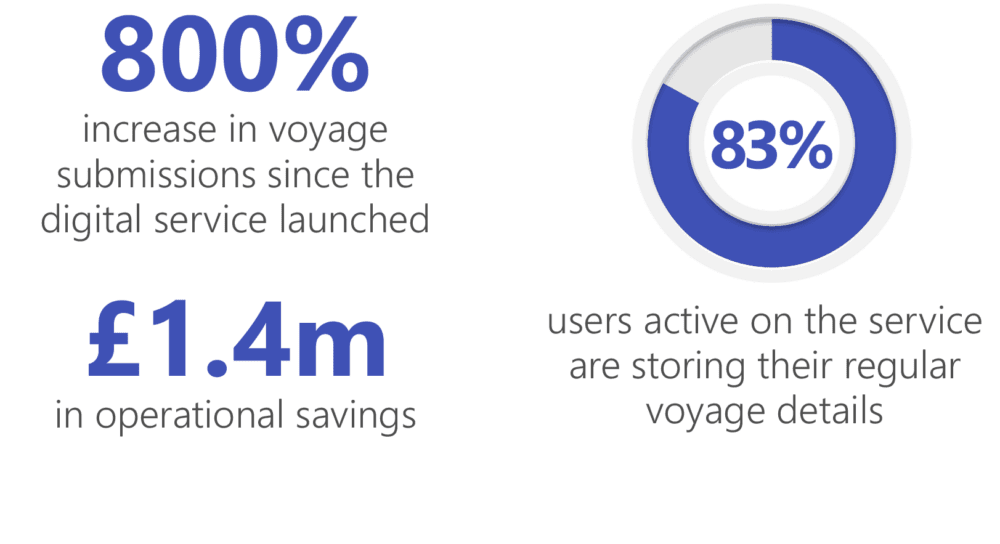 "The new pleasure craft report service helps maximise maritime border security while making it faster and easier for those travelling on pleasure craft to report the necessary information in advance of travel to or from the UK." Border Force
Enhanced loyalty to the service and faster submissions through allowing users to store, amend and resubmit reports.
Removal of existing barriers, including the outdated forms and multiple reporting authorities.
The digital service for Commercial maritime users is now being integrated into an enhanced service to improve their user experience and submission process.